LinkedIn Profiles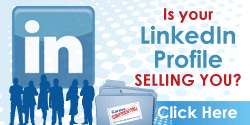 Anyone in a job search must be on LinkedIn. In today's marketplace, it's the first place potential employers go to scout for new hires.
You can walk out of an interview feeling like you have a solid chance of getting the job—then your lack of a LinkedIn profile tips the scales to another candidate.
What Makes LinkedIn So Important?
LinkedIn is the social media platform for professionals. It's not about silly chit chat. It's a place where you can demonstrate what you know. And you can grow you own expertise while you are at it.
LinkedIn profiles save employers time. People who've worked with you can leave reviews about their experience working with you. Rather than calling all your references, a potential employer might head over to your LinkedIn profile first to see what others are saying about you. If that looks good, then the employer may follow through with contacting your references.
So give yourself the edge. Put together a solid LinkedIn profile, whether you are currently job hunting or not. You just might find yourself eliminating that time between jobs if you invest in your profile.
Visit my LinkedIn profile for an example of what a LinkedIn profile can look like.
What You Receive With Your LinkedIn Profile Optimization
Along with optimization, you also receive 8 lessons specially prepared and updated for my LinkedIn clients. This series takes you through each step of setting up and optimizing a LinkedIn Profile. You'll find lessons 3 to 8 will enable you to take your profile to the next level. Lesson 1 and 2 cover what I will be doing for you. You should still read these lessons as they provide useful information if you need to change anything in your profile.
Ready to Leverage LinkedIn for Your Job Search?
Invest in your future. Be where more and more employers are looking for their next hire.
How Building a LinkedIn Presence Breaks Down Financially
Setting Up  New Account
You may already have a LinkedIn Profile where you have entered all your professional information. In this case, you won't need to set up your account. If you don't have a profile set up yet, this is the cost for having me do it for you.
Summary
I recommend building the summary after your 'Experience' has been optimized.
Summary Without Resume
Note: Because working on your resume gives me far more insights into what you have to offer, I give my resume clients a deep discount.
Summary With Resume
Note: If you have done a good job entering your positions, it may be possible for me to write your summary without working with you on your resume or job descriptions.
Experience
I build your LinkedIn profile to reflect each position you have held. For example, you may have worked for XYZ Company for 10 years and advanced from customer service associate to VP of Sales. Along the way you were most likely promoted to inside sales, outside sales, then territorial sales manager before you became VP of Sales.
You want to include each advancement in both your resume and on LinkedIn. This would add up to 5 positions, even though you only worked for one company.
There's no need to go back further than 10 to 15 years unless there is experience that you feel is essential to positioning you for your dream career.
Each Position Without Resume
Each Position With Resume