30-60-90 Day Plans May Be New, But They are Dynamite!
Do you want to walk into your interview with one of the most effective tools possible? Then you want to carry a 30-60-90 day plan into your interview.
No other tool, including your resume, gives you as much leverage once you receive an invitation to interview. This one document proves, more than any other, that you have the stuff the company needs.
If you are asking, "What is a 30-60-90 day plan?" you aren't unusual. It's a concept that is still relatively new in the marketplace.
---
Purpose of 30-60-90 Day Plans
You use the plan to show key qualities employers look for.
You do your research.
You propel yourself toward delivering what's needed.
You think beyond the immediate need to long-range needs.
You plan to be productive from the first day you come to work.
Writing a 30-60-90 Day Plan
While there are templates for 30-60-90 day plans, you must be careful to personalize the plan for your career. A sales plan obviously differs significantly from an engineering plan. Remember your plan must prove you know your industry.
First, you must do your research to ensure you are current in your field. For example, a woman who has been out of the work force for a few years may need to read industry journals. Anyone wishing to change careers needs to get a strong feel for the new industry.
Once you've strengthened your position as a candidate, then it's time to start prioritizing those tasks which you know must be mastered within the first 90 days. Set a schedule so you'll be producing a profit for your new employer by the time your hire comes up for review.
---
First 30 Days
Your primary focus in the first few weeks is to excel in mastering any training provided. If training is on the job, you can still demonstrate your value by listing your strategies for making the job easier for those who are assigned to train you.
You plan needs to:
Break out your ability to prioritize company specific job mastery.
Reveal knowledge of standard practices within your industry.
Establish how you will fit into the company culture.
Show your awareness of differences in policies and procedures between employers.
Outline the steps you will take to learn what you need to know.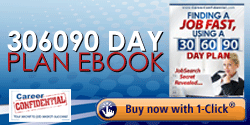 Within 60 Days and 90 Days
Many of your 30 day strategies are ongoing. In addition, you'll focus on outlining those tasks which are easier to accomplish once you've gained rapport and a basic understanding of what makes the company successful (or unsuccessful).
Your plan should chart the course you believe will work for the company's benefit, setting goals to reach by 60 and 90 days. Build adjustment strategies into the plan.
The 30-60-90 day plan offer I've included on this page gives you access to excellent training and templates for sales, medical, marketing and operations managers. I've personally modified these templates to fit other job markets.
I would be happy to assist you with personalizing your 30-60-90 day plan so you walk into your first interview with an edge over the competition.
I may not agree with every strategy Peggy McKee shares, but when it comes to this, she's developed a winning strategy. It's worth your investment.
---